Industrial Design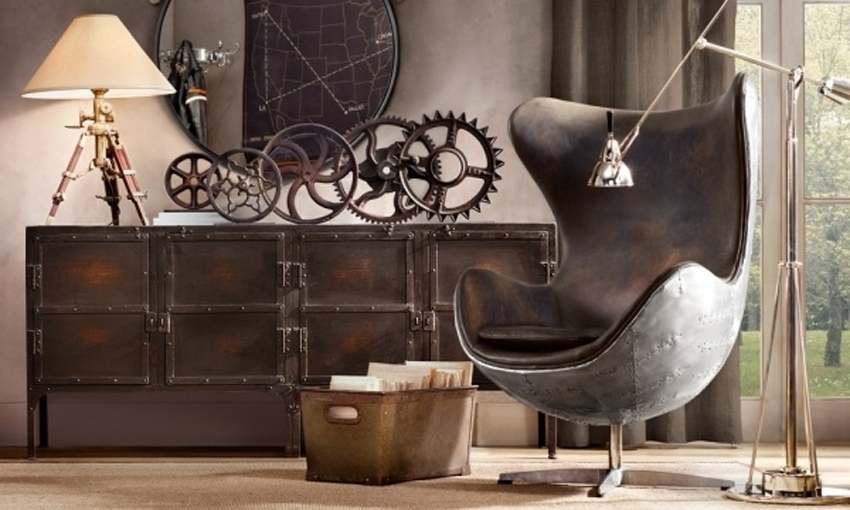 A popular style over the last few years, Industrial style can be very simple to put together using a mix of old genuine pieces and new items finished in the industrial style.
Industrial Design as described by Wikipedia, is a process of design applied to products that are to be manufactured through techniques of mass production. Its key characteristic is that design is separated from manufacture.
So 'what is industrial style?', I hear you say. Have you ever walked through an old power station, machinery workshop or factory? Worn timbers, raw metals and polished concrete result from all the years of some factory worker standing in the same spot.
Large metal hanging lamps hung on steel wires and chains. Real blokie stuff…
But take that approach to your loft or warehouse apartment with exposed beams and raw brick walls and blend with some eclectic pieces of bold upholstery, timber and concrete and you have the makings of a great industrial scheme.
Putting a piece of industrial furniture into a room full of contemporary furniture does not make it an industrial scheme. Take our Brisbane showroom for example. It used to be a machinery workshop and warehouse. Concrete floors stained from years of oil and grease.
High ceilings and Besser block walls. When we added the air conditioning we left the metal ducts exposed along with the big industrial hanging lights. Which now have large chandelier's and pendant lighting hanging between them. Along with a combination of painted concrete and bamboo floors. We love it and reckon it is the best furniture showroom in Brisbane; although I could be biased.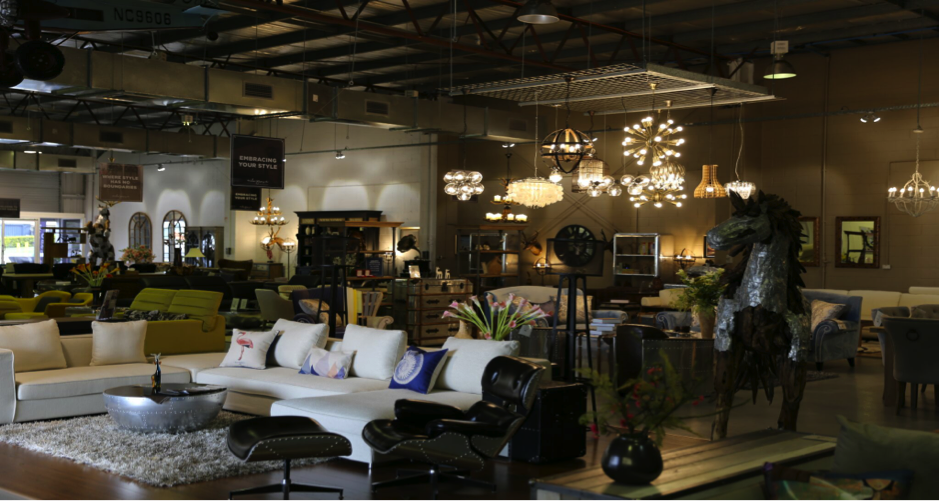 Our Brisbane showroom with a mix of industrial and vintage pieces; Very Eclectic!
We sometimes like to use some modern furniture and blend with industrial cabinets and chairs, such as the aviator ranges with their beaten aluminium, rivets and leathers.
So the secret is…think old machinery workshop or warehouse when selecting industrial pieces. Use iron and metals for framework. Brushed steel for panels blended with timer and sanded off paint finishes. Mix with antique finished leathers and heavy textured fabrics and weaves. Don't be afraid to use colour. Remembering that the key is mass produced product.
Example; The Eames moulded chair was a mass produced chair in a modern design. Yet today we would use it as a reflection of our industrial past.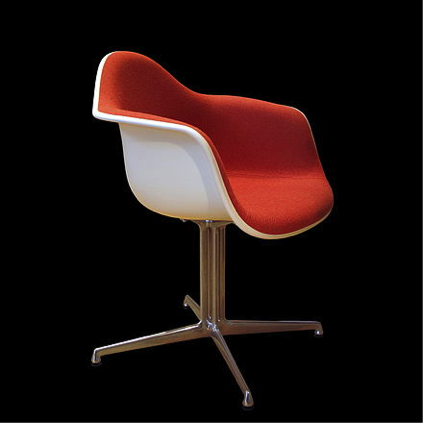 Industrial Design is the creation of things. Industrial style is the expression of our existence in colour textures and shapes.
It's a celebration of the construction process or functionality influenced styling.
Lee Davis
Echo Grove Living
---
Leave a comment